Health Qigong Weekend Workshop
Health Qigong Weekend Workshop
HEALTH QIGONG WEEKEND WORKSHOP
Instructed by:  Professor Yang Yu Bing & Professor Li Zheng En
CHINESE HEALTH QIGONG ASSOCIATION INTERNATIONAL INSTRUCTORS
16TH – 18TH NOVEMBER 2018
BELL BLOCK HALL, MAIN ROAD, BELL BLOCK, NEW PLYMOUTH
FRIDAY 16TH NOVEMBER 2018
6.00pm – 6.30pm        Registration
6.30pm – 8.30pm        Welcome and Special Free Open Class of Health Qigong
SATURDAY 17TH NOVEMBER 2018
9.00am – 5.00pm  (lunch break from 12noon-2.00pm)
DAOYIN YANG SHENG GONG SHI ER FA (12 Methods of Guiding The Chi)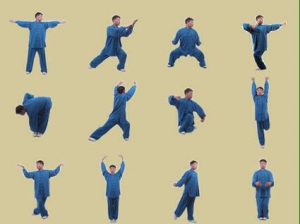 The 12-movement qigong form presented is taken from over 50 forms developed by Professor Zhang Guangde, one of the world's leading qigong teachers, and can be practised in both seated and standing positions.
The movements are graceful and easy to learn, and are based on the tenets of Chinese Medicine, working with the Zang Fu organs (comprising the heart, liver, spleen, lung, kidney, gall bladder, stomach, small intestine, large intestine and bladder), the meridians, balancing yin-yang, the Five Elements, and Qi and blood.
Through integrating breathing exercises into Yangsheng, the 12 steps are effective for promoting good health, preserving life and cultivating the spirit, and they are suitable for all ages.
SUNDAY 18TH NOVEMBER 2018
9.00am – 5.00pm  (lunch break from 12noon-2.00pm)
DA WU HEALTH QIGONG (The Healing Dance)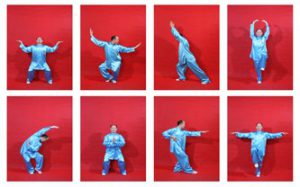 The graceful joint-relaxing dance-like exercises of Da Wu, an ancient qigong, originated from the Tang Yao Period (about 4,000 years ago) and is a health-preserving method which channels the joints and dredges the meridians.
Da Wu lays stress on flexing movements and the rotation of joints throughout the body to help improve health and wellbeing. It is simple and graceful, smooth and flexible, coordinated with mind and Qi enhancing upper limb strength, flexibility, balance, and cardiovascular system function, and improving mood.  A beneficial and easy qigong form for practitioners of all levels, including beginners and of special interest to anyone interested in the ancient qigong forms.
LIMITED SPACES ONLY.  PRE-REGISTRATION & PAYMENT IS REQUIRED.
Email taranakitaichichuan@gmail.com
SINGLE DAY WORKSHOP $70.00 per person (TTCCA Member) or $80.00 per person (Non-Member)
Taranaki Tai Chi Chuan Association, in association with the Wushu Culture Association & Qigong Clinic (Auckland), is proud to present the attached programme for the 2018 visit of the Delegation of the International Health Qigong Federation and Chinese Health Qigong Association.
 Professor Yang Yu Bing, male, Associate Professor of the Department of Daoyin Yang Sheng Gong (Life Preservation and Guiding Qi Health Methods) of the prestigious Beijing Sport University, Ph.D., master tutor, "Health Qigong Elite Talent award winner", Chinese Martial Arts and Qigong Master, Visiting Professor at the International Medical University in Belgium, Founder of the Danish School of Tai Chi Qigong.  He is a master of Sun traditional, Wu style, Chen style, Yang style Taijiquan and Ba Gua Zhang.   He has done extensive research on Chinese traditional Taiji Quan and Qigong Schools and methods.  He received a recognition from the State Sports General Administration and the Ministry of Education of People's Republic of China, he has lectured in more than 20 countries including the United States, Great Britain, Germany, Belgium, and Canada.
Professor Li Zheng En, male, Professor, postgraduate tutor, national Health Qigong referee, national Chinese Health Qigong instructor, International Health Qigong Ranking System 7th Duan, national wushu Daolu judge.  Born into a martial arts family, he has been practicing martial arts with his father since childhood.  He has participated in the national wushu competition on Gansu Province and Xi'an Wushu Team many times and has achieved outstanding results.  He is mainly engaged in the teaching and research of wushu styles and training theory and Chinese medicine and health education and has published 8 books.  He has been promoting and teaching Wushu and Health Qigong abroad many times and has achieved good results and received consistent praise.
Special Note:  For those persons interested in taking the IHQF Ranking System Duan Examination please contact Orlando Garcia by email nzhealthqigong@gmail.com for an explanation of the process of on-line registration.
All other queries regarding the workshops on Saturday and Sunday or the free open class on Friday night – please direct these to Judi Lee by email jharre@primowireless.co.nz